!

The following article is currently being improved for the benefit of all visitors. Please bare with us while improvements are being made. Apologies for any inconvenience in the meantime.


This articles current state:

Biography section. History of character with fans needs to be found.

!
Hatsune Zumi
初音ズミ
Biographical Information
Introduced

February 16, 2008

Gender

Female

Age

Unknown

Height

Unknown

Weight

Unknown

Alias

Zumi Hatsune (western order)

Technical Information
Series type
Voice

Hatsune Miku

Additional Information
Creator

Yu Uonuma

Illustrator

Yu Uonuma

Affiliation

Hatsune Miku (derived)
Hatsune Zumi is derivative based on Hatsune Miku with mouse ears. Her name put together is a pun of the word 'Nezumi', which is 'Mouse' or 'Rat' in Japanese.
Design
Her design based the kemonomimi trend, giving characters 'animal ear' traits, along with matching tails. She has white hair, styled short with long sidelocks, and her eyes are brown. She wears a sleeveless top that bares her navel and a skirt. Her legwear appears to be loose fitting boots.
Personality
An official personality by the creator is unknown. Any proposed fanon personality is also unknown or appears not to be popularized.
Biography
A Vocaloid inspired by the image of mice. She loves to sing, but is usually silent. Her voice is stated to be 'cute sounding'. It would please her to let you hear her singing.
Voice configuration
Configuration: Hatsune Miku

 EXPLAINED:
This is a voice configuration by Over9000Skittles on YouTube. No credit is needed.
 TECHNICAL INFORMATION
BREATHINESS (BRE)
-20
BRIGHTNESS (BRI)
11
CLEARNESS (CLE)
22
GENDER FACTOR (GEN)
-50
OPENING (OPE)
10
 SPECIAL NOTES:
This example of configuration on the Fanloid wikia should not be viewed as being widely accepted or acknowledged by the character's creator.
Notable media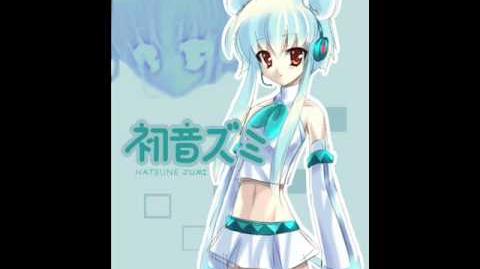 YouTube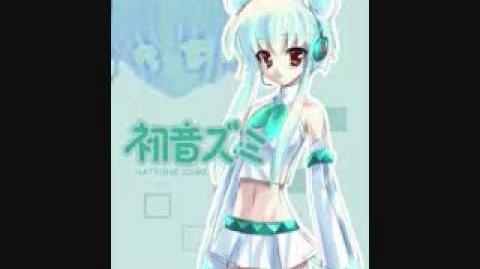 Additional info
Relationships
Any official relationships by the creator is unknown. Any proposed fanon relationships is also unknown or appears not to be popularized.
Appearances
Artwork

Search Hatsune Zumi on deviantArt Pixiv Piapro
Trivia
Her voice is usually three or four pitches higher than Miku's.
Gallery
External links
Community content is available under
CC-BY-SA
unless otherwise noted.