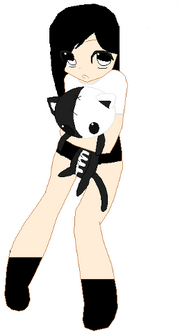 This is Aika Akemi.She has black and whie eyes,black shoes, black shorts, black hair and a while shirt. In her arms is one of her 'friends' Usaki. He's a male stuffed animal that's alive but he cant talk. Aika's style is sometimes concidered 'emo' but she doesn't care. Her voice is smililer to Luka's and Miku's but she inbetween both of them. (Softer then Luka's but Higher then Miku's) Aika is from Vocaliod 2 and her best friends are Piko, Len and Rin, Luka, Kaito, Miku, and Iroha. But even though Kaito is her friend she has some screct feelings for his younger brother Nigato Shion.
Personality
Aika is a quiet girl, she's also bubby, helpful, a good listener, and helps out a lot. She a verry deependable person but some people would think she's a verry strange and mysterious girl. Because of her personality she's sings what she feels wich means most of her songs are sad.
She see's Luka as her older sister, Kaito as her older brother, and Yuzuki as her sister even thought they are some of her best friends. You would mostly see her hanging around with them, especialy Yuzuki.
Strengths & Weakness
Strength - Aika is able to hold some-what long notes unlike Yuzuki. They arent as long but almost long enough. She also plays and instument in some of her songs. Ex: piano,violin, and gutiar.
Weakness - She cant hit verry high notes or her voice cracks. She's not good with comming up with her own song so she either sings with someone else or sing their song.
Songs
Not her's: Pon Pon Pon - Aika
Somatic Delution- Aika and Luka
Summer Rain - Aika
Yoiyami no Augustin - Aika
Sayonara- Aika
Perfect Star Perfect Style - Aika, Miku, and Rin
Dream Fighter - Aika, Miku, and Luka
Candy Candy - Aika
Butterfly On Your Right Shoulder - Aika
ラブポーション - Gumi and Aika
Rentica - Aika and Yuzuki
Her Songs: Kimi ni okuru uta
Community content is available under
CC-BY-SA
unless otherwise noted.